MNESYS
A multiscale integrated approach to the study of the nervous system in health and disease
MNESYS, funded as an extended partnership for Neurosciences and Neuropharmacology in the context of the National Plan for Recovery and Resilience (PNRR) and coordinated by the University of Genoa, aims to develop new approaches for experimental and clinical neurosciences in a perspective of precision, personalized and predictive medicine with a transformative impact on the treatment of pathologies of the nervous system and behavior.
The underlying paradigm of MNESYS provides the integration of medical, biological, technological and computational skills with the ultimate goal of fully understanding some of the key aspects of the functioning of the nervous system in physiological conditions and in the context of its epidemiologically more relevant diseases.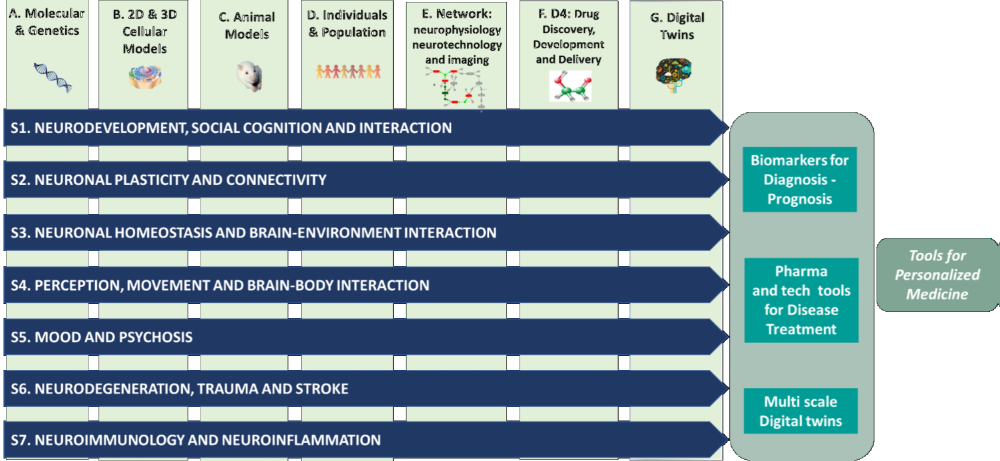 The 25 partner institutions cooperate within 7 distinct thematic Spokes. The University of Parma is leader of Spoke 1 "Neurodevelopment, social cognition and interaction" (Coordinator: Luca Bonini).
PARTICIPATE IN THE ACTIVITIES: UNIGE, UNITOV, UNIPV, UNIBO, SSSA, UNIVR, UNIFI, UNIBA, UNICZ, UNINA, EBRI, OPBG, HSM
The activities of Spoke 1 will address the main aspects of neurodevelopment in a life-span perspective, from preconception and childhood to adulthood. This will allow to clarify the neural basis of cognitive development in helath and disease, including the effects of the interaction between neural development and the environment. New biomarkers for monitoring the emergence of complex diseases of the nervous system, such as epilepsy and autism, will be investigated. This research will be also aimed at identifying key determinants of mental health, such as social cognition. The research will be developed in the following work packages:
- Anatomo-functional mechanisms of neurodevelopment and social cognition
- Identification of new biomarkers for neurodevelopmental disorders
- Neural and molecular mechanisms of neurodevelopmental disorders and targeted therapies
- Environmental and social determinants of neurodevelopment in health and disease